I have been looking at Escents electric oil diffusers and have been meaning to get one for myself but I just haven't had the time so when I received one as a house warming gift I was over the moon!
Not only are these electric diffusers pretty, but they offer so many health benefits from helping you sleep, to changing your moods and easing headaches and even reducing cold and flu symptoms. These electric diffusers also clean and purify the air and help with allergies and asthma. They are safer than candles and I think every home should have at least one, if not more! There are endless essential oils and different blends you can buy as well as create your own oil blends.
Here are my 4 favourite diffusers from Escents
2. Grace Ceramic Aroma Diffuser
3. Dream Ceramic Aroma Diffuser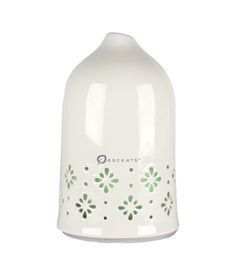 4. Aura Ceramic Diffuser in White
These are just a few available and you can see more HERE. If you don't have an Escents store close to your home you can purchase any of these disffusers as well as oils online.
I currently have the Lotus diffuser in my living room and plan on getting one of the ceramic ones for my bedroom and probably another one for my office. Yes I love them that much!
Have a great weekend everyone 🙂